Electric, (CNG), (LPG) or Diesel Powered Forklift? Determining the Best Forklift Fuel Type for Your Business's Workplace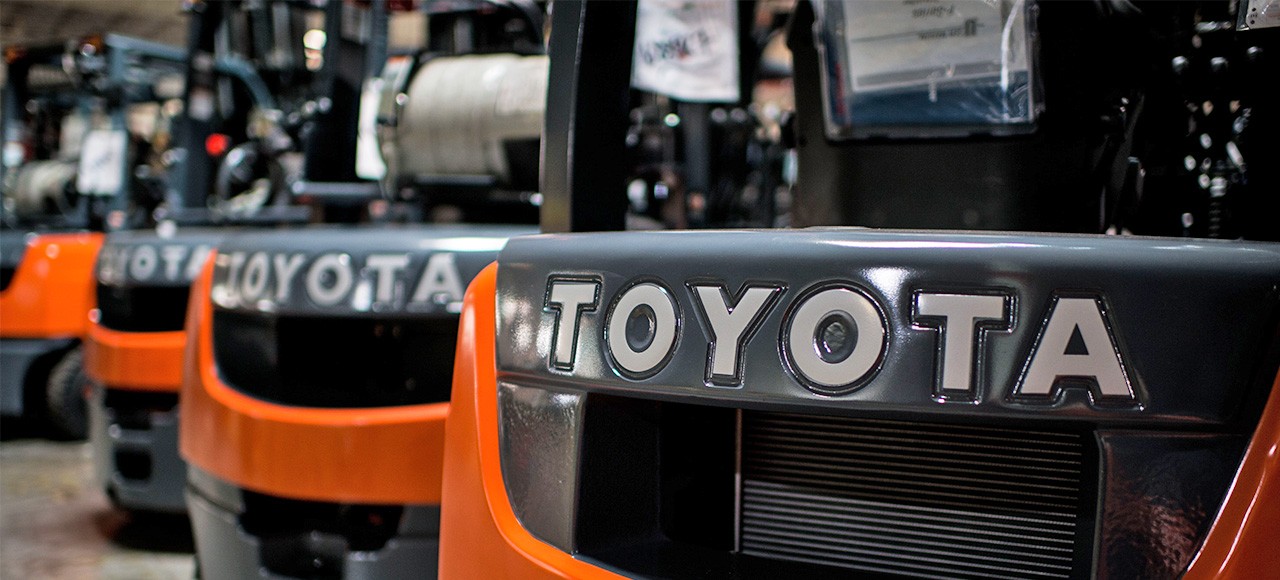 Picking the Best Forklift Fuel Type
Have you ever wondered which forklift fuel type is the most beneficial for your business operation? Electric, (LPG),or Diesel? This can become an ambitious task especially, when weighing in all the various variables needing consideration when making an informed decision in choosing the best lift truck power option for your business operation over another. So if you're in the market for a new or used forklift or you are just looking to read up on best options for down the road our forklift specialists here at Madland Toyota Lift are always here to help you make an informed decision.
To answer the question of which fuel type would be best for you, you first need to examine and define your current and future application requirements. Such as what types of working environments will your material handling equipment operate in? Will you be expanding in the near future? Are you looking to require used equipment?
Things to Consider When Selecting Forklift Fuel Type:
Operational environments: Extreme heat, cold?

Load capacity requirements

Lift height requirements

Operating surface requirements

Upfront costs

Long-term operational costs

Current application requirements

Long-term application requirements
Below we have a summarized overview with advantages, disadvantaged and best suited applications for the different forklift fuel types available. If you are still needing a questions answered please make sure to contact our forklift experts today!
Liquid Propane Gas (LPG) powered lift trucks can both be grouped together with other internal combustion forklifts in that they utilized an internal combustion engine. If you'd like to know in more detail about (LPG) lift trucks, contact our forklift experts today to have your questions answered.
LPG – Propane Advantages
Cheaper than alternatives, with reduced upfront costs
Significantly lower emissions and pollutants.
Suitable for indoor and outdoor applications with proper ventilation
Fast refueling times.
Limited downtime as there is no battery to re-charge
Best rates of acceleration, travel and lift speeds

LPG – Propane Disadvantages
Maintenance costs are known to be higher than electric forklift models for most operations
Gas tanks can reduce rear view visibility
Even with reduced emission, (LPG) models may not be an option for food industry businesses
Electric Forklifts
Electric lift trucks are excepted as the most environmentally friendly option when compared to diesel and (LPG) internal combustions powered forklift options. Their inherent design and construction enables them to be fast, easily maneuvered and capable of wide ranging unit loads and lift capacities. Which in turn makes electric forklifts perfectly suited for indoor use.
Electric Forklift Advantages
Environmentally friendliest forklift truck
Quieter, cleaner, and easier operation when compared to other forklift types
Easier maneuverability than (LPG) and diesel forklift models
Cheaper operating costs, recharging batteries generally is cheaper than a tank of diesel, and (LPG)

Electric Disadvantages
Higher upfront costs, due to batteries and charging equipment
Reduces usable facility space due to charging equipment and battery storage
Not as weather resistant to precipitation as (LPG) and diesel forklifts
Traditional battery recharging times of 8 or more hours
Battery replacement usually after 5-7 years
Need for smoother floor surfaces for some models
Lift capacities are limited when compared to diesel and some (LPG) units generally up to 12,000 lbs.

Suitable Electric Application Uses
Suitable applications uses for electric forklifts have greatly improved in recent times to include a wide range of indoor and outdoor tasks including lifting goods and products in and out of racking and moving them around your facility.
More electric models now more than ever are ideally suited for production work environments and are capable of loading and unloading heavy loads like supplies and components. Electric lift trucks are also very well suited in operations that require cold temperatures and also food and beverage facilities.

Diesel lift trucks are known as some of the toughest workhorses in the material handling industry. Specifically designed to withstand demanding, wet, dirty outdoor work conditions that require increased lifting capability.
Diesel Advantages
Diesel durability and reliability is unmatched in outdoor applications
More powerful engines allow for improved performance on inclines and declines when compared to LPG, CNG or electric
Higher toxic exhaust emissions
Increased need for ventilation or open spaces due to toxic emissions
Louder engines can impair communication
Not as maneuverable as electric and (LPG) models
Diesel fueling expenses can be higher than propane depending on the markets
Need for a large refueling tank onsite can be costly
Suitable Diesel Application Uses
Diesel forklifts are ideal for outside use where the applications demand increased power and lifting capacity. Best suited for applications where equipment will be used to transfer heavy items and loads from one location to another, such as lumber yards, shipping and receiving areas. Also a great option for container loading and unloading, as well as moving loads in and out of external storage locations.
Here at Madland Toyota Lift know we that choosing the right equipment power option is essential to saving on your operating expenses. Our forklift experts are here to help you in deciphering the best option depending on your equipment usage, application requirements, working environments and more. If you want to know which is the best forklift fuel type for your business, make sure to
contact us
today to get a detailed answer that is based on your specific needs.
Stay Informed
When you subscribe to the blog, we will send you an e-mail when there are new updates on the site so you wouldn't miss them.
Comments
No comments made yet. Be the first to submit a comment