Whether you are moving empty containers or laden ones, Konecranes has a solution for you. At Madland Toyota-Lift, we can offer specific help on why Konecranes is at the top of the list in container lift trucks. With empty container lift trucks, Konecranes provides a fast operating speed based on load-sensing hydraulics. Konecranes laden container lift trucks also provide a fast operating speed with a best-in-class ratio of lifting capacity to truck size and length. With Konecranes experience, you get a stable, compact and agile solution offering world-class safety.
Contact Madland Toyota-Lift for more information.
Fast & Reliable
Konecranes container lift trucks carry 8-10 tons empty and 33-45 tons laden. Both laden and empty, Konecranes container lift trucks provide fast and reliable lifting, with an ability to lift eight empty containers simultaneously. Moving an empty container quickly in order to get it back into service is a must for decision makers with an eye on the clock. With a fast operating speed on both empty and laden containers, you'll find a best-in-class, heavy-duty solution to maximizing your profits.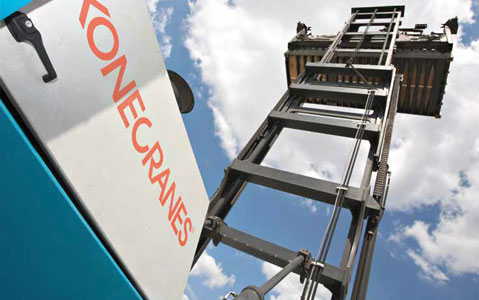 Features That Maximize Productivity
Stable, durable and compact, Konecranes container lift trucks come with an unequaled low cost of ownership, providing the best value over time. Service intervals are extended on the engine in order to reduce maintenance and running costs over the lifetime of this equipment. With the HLL ultra-fine filter system, you can expect to see up to 80% less use of hydraulic fluid. With brakes that are maintenance free, a certified low-emission engine and intuitive hydraulics, Konecranes container lift trucks are an essential element for maximizing productivity and efficiency.