Narrow Aisle Warehouse Solutions - The Right Size For Any Job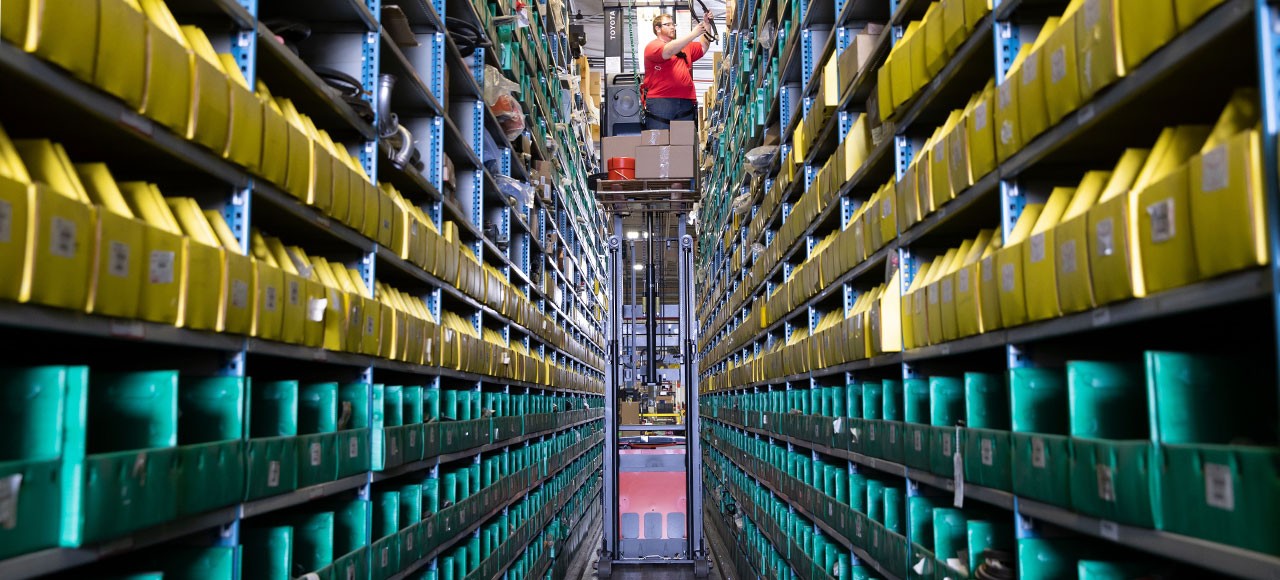 We are all adapting to our new normal since the onset of COVID 19. With E-Commerce booming, warehouse and distribution centers are having to assess their operations and methods of handling inventory. They are having to transform their warehouse space to maximize storage and accessibility. As a result, warehouses are turning to longer and more narrow aisles, making handling material a challenge. With a number of warehouses and distribution centers opting for these narrow aisles, there is a greater need for equipment that can maneuver within these tighter spaces. Madland Toyota-Lift is ready for the challenge and understands the importance of helping you choose the proper equipment to maximize and optimize your warehouse space.

General Aisle Widths
A typical warehouse aisle measures 10 ½ feet or more. While narrow aisles (NA) range anywhere from 8 ½ to 10 ½ feet, very narrow aisles (VNA) may only be as wide as 5 to 7 feet. This is why NAs and VNAs can be a challenge when storing product or stacking orders. Most forklifts are too large to turn and stack loads in a narrow aisle. They typically don't have a tight enough turn radius to prevent hitting the racking.
Typical Aisle – 10 ½ Feet or More
NA (Narrow Aisle)- 8 ½ – 10 ½ Feet
VNA (Very Narrow Aisle) - 5-7 Feet
Your Guide to Narrow Aisle Warehouse Equipment
Madland Toyota-Lift is here to help you find the perfect solution for your NA and VNA problems. Let's review each of these options:

3-Wheel Electric Forklifts
Order Picker
Electric Reach Truck
Bendi Articulating Forklifts
Drexel Very Narrow Aisle Forklifts
3-Wheel Electric Forklifts
Forklifts are not one-size-fits-all. For as many different applications and situations that can be found in your warehouse, there is a forklift available to cover every unique function. At Madland Toyota-Lift, we carry a wide selection of forklifts in the Toyota line of forklifts, everything from electric to traditionally powered forklifts.In addition, we offer narrow aisle solutions and pallet jacks.

Toyota's Order Picker combines advanced technology with a 3,000 lbs. lift capacity. This is perfect for reaching products stored on high racking, allowing for a lift height of 390 inches. Order pickers are great for those narrow aisles, because of their ability to reach from side to side, making things more accessible for operators.

The Toyota electric reach truck delivers efficiency, safety and performance, allowing for new opportunities in the warehouse and distribution centers. It's unique ability to put pallets behind each other by "reaching" out makes this single- or double-reach model the perfect solution for those tight storage spaces. With a lift height of almost 30.5 feet and lift capacity of up to 4,500 lbs., this Toyota reach truck is ready to take on heavy loads.
Navigation in narrow aisles
Up to 4,500 lbs. lift capacity
Up to 30.5' lift height
Bendi Articulating Forklifts
Bendi
180 degree articulating forklifts, available in LP or electric powered versions, allow pallets to be handled to the left and right, from aisles as narrow a 6 feet. They are designed to combine the strengths of reach trucks, turret trucks, and traditional sit-down forklifts into one versatile, multi-function machine that can outperform them all. Bendi lift trucks let you create more space within existing walls by reconfiguring floor plans to profit from narrow aisle efficiency.
Drexel Very Narrow Aisle Forklifts
Known world-wide for its industry leading Very Narrow Aisle (VNA) swing mast capabilities, the
Drexel
front/side loading forklift provides creative solutions for high-density storage systems picking or placing rotating left and right loads. In addition to its VNA capabilities, the multifunctional unit that can be used as a side-loader for long loads such as long lumber and pipe or as a front loading truck for the plant and warehouse. There is even an EX line designed for operating environments containing flammable gas, vapor or combustible dust.
Madland Toyota-Lift - Here To Meet All Of Your Warehouse Needs
There is no one-size fits all choice for the right forklift to satisfy your specific warehouse needs. Madland Toyota-Lift carries a wide selection of Toyota narrow aisle forklifts and specialty equipment to meet every challenge. Combined with Toyota's world-wide recognition for time-tested, quality, reliability and durability, you can trust Madland Toyota-Lift to provide you with the material handling equipment best geared for your unique applications. We have three convenient locations to serve you. Call or come by to discuss your narrow aisle solutions today!
Stay Informed
When you subscribe to the blog, we will send you an e-mail when there are new updates on the site so you wouldn't miss them.
Comments
No comments made yet. Be the first to submit a comment