Konecranes lift trucks have lifting capacities from 10 to 65 tons, depending on model. With options and attachments that help you solve your heavy-duty lifting challenges, Konecranes has the experience and up-to-date technology for your applications. Built on a special heavy-duty, box-type chassis, Konecranes lift trucks are adaptable and reliable in the harshest working conditions. Konecranes are designed to provide the lowest total cost of ownership with a wide variety of safety options to help you keep safety at the forefront.
Contact Madland Toyota-Lift for more information.
Heavy-Duty Lifting Solutions
Konecranes lift trucks solve application challenges in a variety of industries, including steel, wood, pulp, paper, concrete, bricks, rock, automotive, general manufacturing, oil and gas, wind, agriculture and much more. Konecranes also feature an extended service interval for an added savings, plus up to 80% less hydraulic oil needed when compared to a conventional hydraulic system.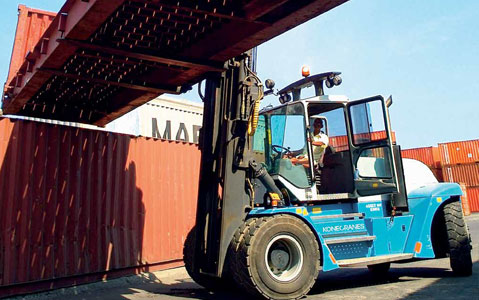 Features & Options
The Konecranes state-of-the-art Optima cabin provides comfort, safety and ergonomics to help encourage operator productivity. These heavy-duty forklifts come with low-emission engines that help reduce fuel consumption and hydraulics that do the thinking for you by intuitively understanding the weight of the load and automatically adjusting, another way to save money in fuel costs. With a braking system that is virtually maintenance free and the strongest box chassis on the market, the Konecranes forklift is designed to save you money, increase efficiency and promote productivity. With a variety of options that enhance safety and fuel consumption, Konecranes forklifts maximize your bottom line.