So You Want to Buy a Used Forklift: A Comprehensive Guide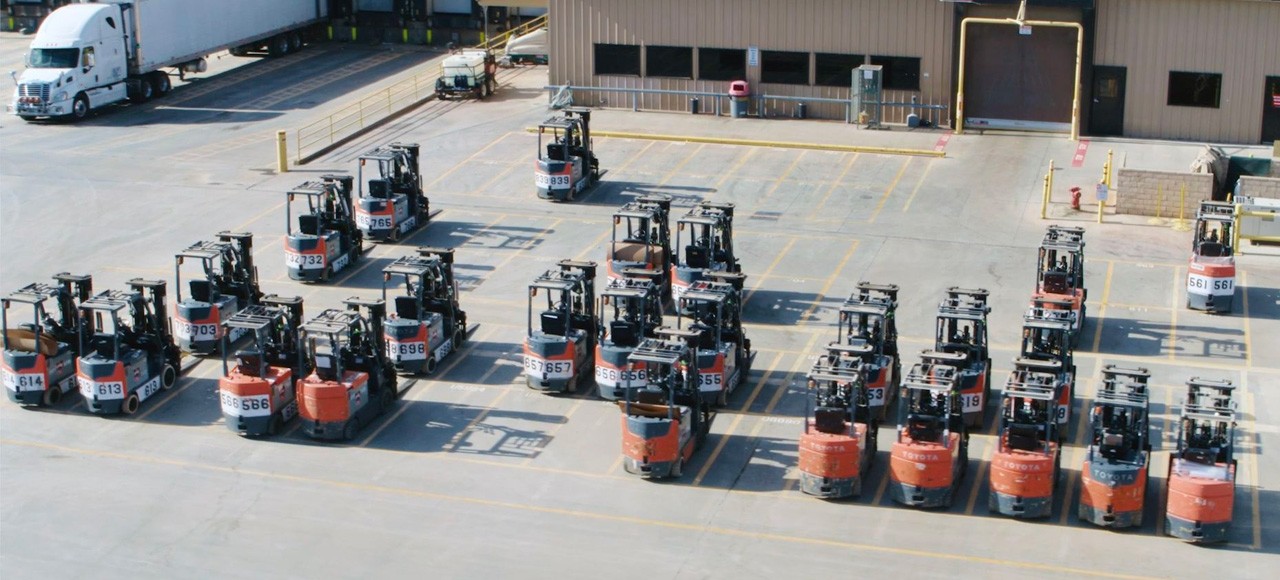 To the untrained eye, buying a used forklift may seem like an economically smart option. And for the most part, it is. But, if you don't know your stuff, buying used could end up being less cost-effective than just buying new to begin with.
But don't worry — with the right knowledge, you can still get your bang for your buck. The real risk isn't in buying used, but instead in buying uninformed. That's why we're here to help you make a used forklift purchase that you can count on. By following our guide to buying used, you can trust any purchase you make to be a good one.
At Madland, our sales professionals are here to perform free site surveys by appointment if there is anything in question.
First, Consider Your Needs
The first step to making a responsible forklift purchase is understanding your own needs. How will you be using your forklift? Will you be using it part-time in a warehouse, or will you be using it full-time in rougher outdoor environment? You should be asking yourself these questions — and any more you can think of — before you even begin your used forklift search. By being aware of your application needs, you can maximize quality in areas that are important to you and know where you're willing to compromise. There are six classes of forklifts so choosing the correct class of lift truck will be a starting point.

Choose the Right Seller
Your used forklift seller can make or break your purchase. For instance, if you choose an inexperienced seller who doesn't know the equipment well, they may not be able to give you an accurate evaluation of the equipment and you may end up spending more for faulty machinery. By knowing which sellers are credible and which are not, you can feel more comfortable in knowing that you're getting what you pay for.
Wholesalers and Individuals
Though you might get a lower price from an individual seller, they're unlikely to truly understand the piece of equipment that they are selling. This means that they may be unaware of underlying issues with their used forklifts and that they may not have had access to each particular forklift's application history, which can be important in determining the forklift's longevity. This just means that, if you are going to use a wholesaler or individual seller, be sure to ask lots of questions to determine if they are a credible source of information for your purchase.

Equipment dealers are the most likely to have a broad range of general forklift knowledge, and it is likely that they will have knowledge of the history of your specific piece of equipment. As an added bonus, most dealers perform maintenance and sometimes will even completely recondition a used forklift. This means that your used forklift may end up costing more than if you bought it from a wholesaler or individual, but your initial investment will likely pay off in the long run by ensuring that you aren't buying defective equipment.

Consider Your Equipment's Age
So, you know your needs and have chosen a seller — what should you look for in your used forklift? In order to truly save money by buying used, any equipment that you that you look at should be at least 5 years old. If you buy anything that is newer than that, you might as well just buy new — you'll end up paying pretty close to the original value regardless.
Verify Total Hours of Use
Another good place to start is to look at each forklift's hours of use, which should be available on the forklift's dash. There are two types of hours that are tracked on a forklift, key hours and usage hours, and one is more relevant than the other.
Electric forklifts have three ways to determine usage - key hours, drive motor and lift. All other forklifts just have key hours.
Key hours are tracked any time the forklift is turned on. Because this includes idle time, it can be a somewhat inaccurate indicator of equipment usage, since many of the forklift parts aren't being used when the forklift is idle.
Usage hours are tracked when the equipment is actually in use. How usage hours are tracked varies, but because they are tracked based on the operator's actions, they are a more accurate indication of how often a particular piece of equipment has been used.
Forklifts that have been used part-time will likely have a total of about 1,000 hours/year, whereas full time use is generally indicated by 2,000 hours/year of use.
In general, part-time use is best when buying a used forklift. However, by being aware of your own needs — maybe you're planning on only using your forklift part time in a less demanding environment — you'll be able to determine whether you're willing to settle for full-time usage for a lower price. But still, a used forklift's hours are a good indication of a forklift's wear and tear — buying a forklift with full-time usage is essentially the same as buying a used car with a high mileage.
Check the Lift's Application History

Most forklift dealers will have access to a particular forklift's application history. Previous environments that the forklift has been used in can be a good indicator of the wear and tear on the forklift. If you aren't aware of the previous wear on the equipment you purchase, you may end up paying more in maintenance down the road.
Some working environment red flags include:
Cold Environments
Cold environments can cause the seals on the engine and hydraulics to become brittle. This can jeopardize the overall integrity of your equipment.
Salt Water Proximity
Salt water is known to cause more corrosion on your machine's components. This means that the forklift will be more likely to wear down more quickly and that its components likely have more wear and tear than its usage hours and age might indicate.
Humid Environments
As with salt water, humidity can cause increased corrosion. This is because it is able to reach the electrical components of the lift.
Heavy Outdoor Use
In general, the more exposure a forklift has to outdoor elements, the more potential there is for wear and tear. Be cautious of any equipment that has been used primarily outdoors.

With all of these above applications, you may want to have your service intervals increased.
Inspect the Equipment's Condition Closely

So, you've narrowed down some potential used forklift candidates by using the steps above... now what? This step is arguably the most important: do a thorough check of the equipment that you are considering.
We recommend that you bring a certified technician with you when performing your inspection, but if you do not have access to one, here's a checklist for your own self-check of common problem areas.
General Operations
Make sure that the seat is attached and that the seat belt is in good condition.
Start the engine and pay attention to any odd noises.
Lift and lower the loader arms, tilt the mast in both directions and shift the arms from left to right.
Drive forward for a few seconds, reverse for a few seconds and then drive in figure eights.
Operate the flood lights, the horn and the backup alarms.
Once the lift has been running for about 15 minutes, do a visual check for any fluid leaks.
Forks and Masts
Check for cracks or any type of warping. While minor warping is fixable, any cracks or excessive distortions can indicate excessive use and would compromise the safety and functionality of the equipment.
Check the fork heels's thickness, which should be similar to that of the fork shank.
Mast rails, lift chains, and cylinders
Check for signs of cracks or warping on the mast rails. Mast rails that have been warped into an oval shape, instead of a circle shape, could indicate excessive wear.
Check for leaks in the hydraulic hoses.
Make sure that the hoses and the lift chains have the same tension.
Check cylinders for signs of leaks, damage or loose/missing bolts.
If you follow these steps, you'll be well on your way toward finding a
used forklift
that fits you and your needs. For more guidance in your used forklift search or to learn about our pre-owned equipment sales, feel free to
contact
Madland Toyota-Lift. Our professionals are here to make it an easy used equipment buying process.We go through our used equipment so our customer don't have to stress about buying a quality forklift. We also have a warranty on all our reconditioned equipment. By delivering the most advanced forklift and material handling equipment, we're always equipped to meet your needs.
Stay Informed
When you subscribe to the blog, we will send you an e-mail when there are new updates on the site so you wouldn't miss them.
Comments
No comments made yet. Be the first to submit a comment