Picking the Right Forklift for Your Application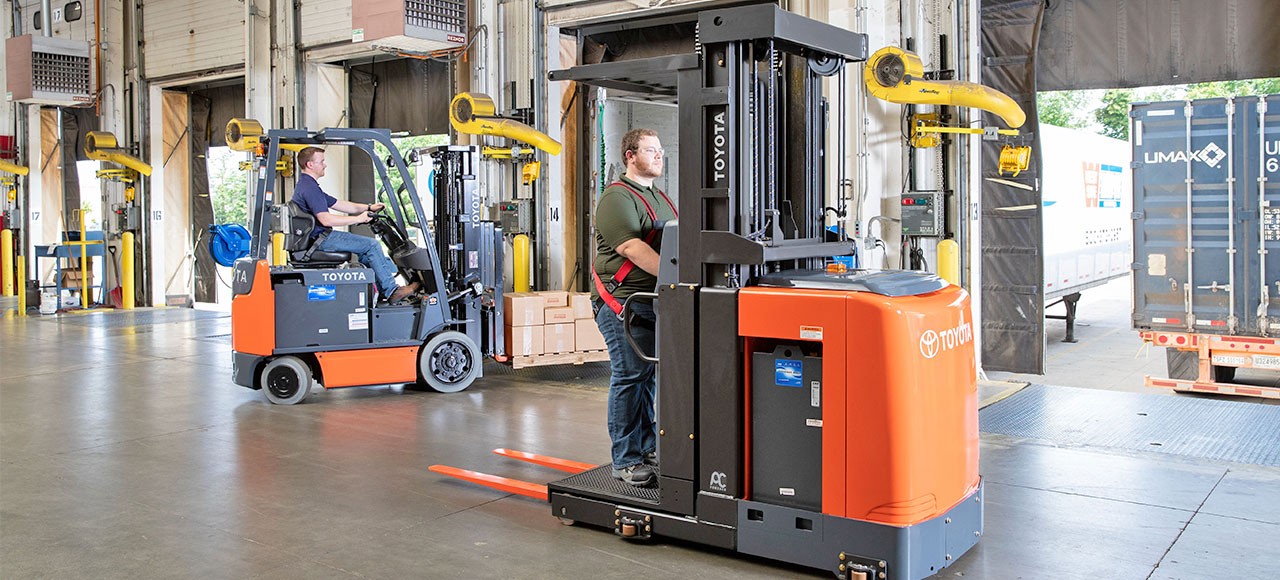 From startups to well-established companies, equipment costs can eat up a large part of the budget. The professionals at Madland Toyota-Lift can provide direction when companies make a decision on the right forklift fit for every type of material handling endeavor. With many application uses to choose from, Toyota forklifts run the equipment gamut and decision makers will want to choose the best fit with the highest ROI when it's time to invest. From reach trucks to full-on forklifts to the pallet jack, Toyota has something for everyone.
Because forklifts are an expensive and necessary purchase for most material handling, construction, agriculture, oil and gas and other industries, some buyers find themselves focusing on price - and price should be a concern. In the long run, however, it's only part of the equation. Forklift purchase decisions should also take into account the long-term expenses a particular piece of equipment will cost the company. Every responsible decision maker wants to see operator safety, a great ROI, unmatched productivity and equipment dependability as primary purchasing objectives.

Conditions under which the forklift will be operated, alongside price, should be the main considerations when purchasing a new - or used - forklift. Keep reading for a breakdown of what that means. At Madland Toyota-Lift, professionals are standing by at three convenient California locations with expert advice on every Toyota forklift available.
Long gone are the days when how much weight a forklift could lift was the main consideration. Forklift choices were limited and as long as the forklift could handle the typical load, all was well. Today, companies are operating in ways designed to maximize productivity, emphasize space, promote safety, optimize finances and integrate equipment. Toyota forklifts address and solve all the major - and minor - considerations for today's companies, including:
The environment a forklift operates in will determine several factors, including tires and fuel. Forklifts that operate indoors, such as reach trucks and narrow aisle trucks, can get away with cushion tires, which last longer and are less expensive than pneumatic tires. On the other hand, pneumatic tires lift the forklift higher for greater ground clearance and work better outside on IC forklifts. Main fuel types include gasoline, diesel and electric. With today's advances in battery technology, choosing a battery-powered forklift can save time and money and optimize productivity. Some applications however, especially outdoors, demand more power and will call for diesel or gas in IC high capacity and heavy duty forklifts.
Although it's understood that many factors go into purchasing the perfect forklift, lift demands are still at the top of the list. The tried and true advice to buy higher capacity than what is typically needed still holds and understanding how high loads need to be lifted is another consideration. Will there be attachments on the forklift? Is warehouse space trending upwards while aisles are becoming more narrow? Are most loads a standard pallet size or will there be a variety? All of these questions need to be examined.
The application will play a large part in driving the type of forklift purchase. Toyota has forklifts to answer every application across a wide variety of industries, including:
Retail or distribution center warehouses: Check into reach trucks, order pickers, pallet jacks, stackers and narrow or very narrow aisle trucks. Toyota offers a choice in many different styles, including sit down, stand up, turret, and more. Models come with a variety of fuel types, as well.
Agriculture: Running the gamut from storing items to moving items, appropriate trucks can include indoor and outdoor IC heavy duty or electric forklifts, as well as reachers and pallet jacks.
Construction: Almost always outdoor and over rougher terrain, check out heavy duty IC forklifts for construction needs.
At Madland Toyota-Lift, the number one rated forklift line has the right Toyota forklift for every application. Toyota forklifts are celebrated for their ROI, as well as their positive impacts on productivity, safety and dependability. Contact Madland Toyota-Lift or visit one of our three convenient locations today to start your search for the perfect Toyota forklift for your needs.
Stay Informed
When you subscribe to the blog, we will send you an e-mail when there are new updates on the site so you wouldn't miss them.
Comments
No comments made yet. Be the first to submit a comment