Win-Win Pallet Jack Sales Event For Your Productivity and Efficiency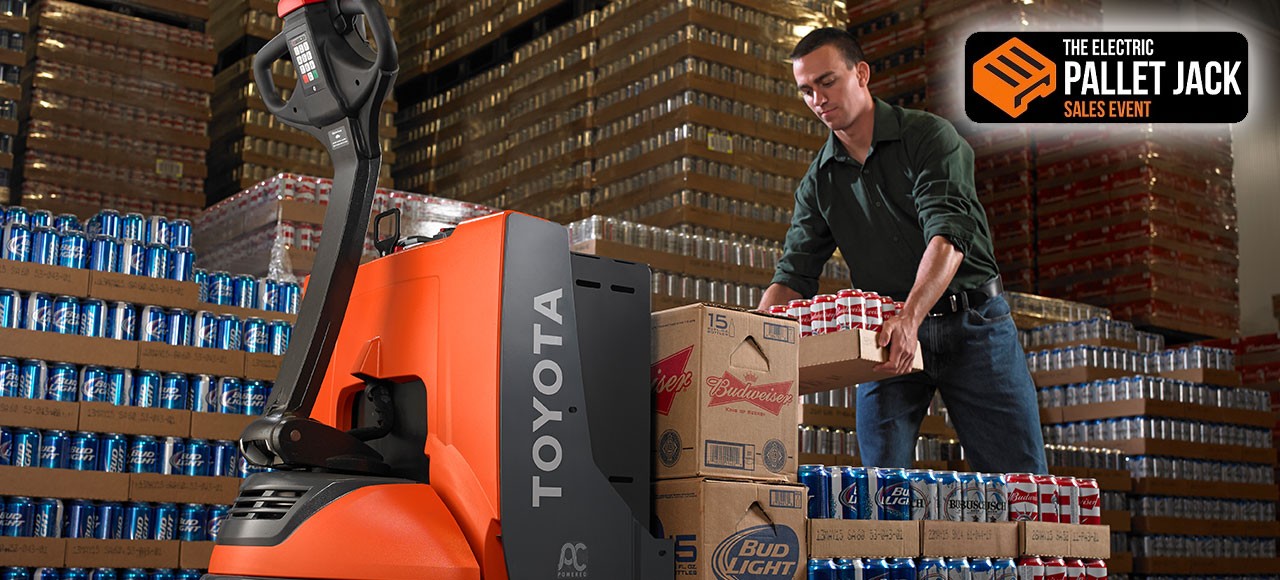 Are you looking for a budget-friendly option to move large amounts of product through your warehouse in a fast, easy and efficient way? Then look no further because at Madland Toyota-Lift, we are offering a great electric pallet jack sales event. For just $3,999* through Oct. 31, you can buy the Toyota 8HBW23 electric pallet jack from the world's number one material handling equipment manufacturer, Toyota.
Why choose an electric pallet jack over a hand pallet truck? They both have their best applications, but generally, when talking about economics and ROI, an electric pallet jack will move a larger number of loads greater distances without putting undue strain on the operator, leading to less fatigue and more productivity. The Toyota electric pallet truck moves easily on trailers, dock plates, ramps and slopes, as well as providing simple maneuverability in narrow and tight spaces.
Electric pallet jacks are superior when your operators are making longer, more frequent runs of loads 4,500 lbs. or less. Electric pallet jacks provide a less expensive option to move frequent loads throughout a warehouse than a traditional, counter-balanced forklift, plus they are great for smaller spaces, have less overall operating costs and are more easily operated than traditional forklifts

Toyota Electric Pallet Jack
Toyota's 8HBW23
​
pallet jack comes with an electric disc brake and anti-rollback system to keep loads stationary while working on a grade – with a hand pallet truck the operator must maintain stability by using physical force or sitting the load down, leading to fatigue, inefficiency and less return on investment.
Toyota's electric pallet jacks
are known for easy operation and low maintenance, plus you can add a factory option integrated fork scale when you take advantage of this sales event and order through Madland Toyota-Lift. Not having to use a separate scale is just one more way to boost your productivity and maximize your resources.
​
Most material handling operations look for ways to move pallets and products in an optimized throughput situation in their warehouse applications. At Madland Toyota-Lift, we offer professional staff at
three convenient locations
that can help you make the most out of your precious resources. Taking advantage of the Toyota electric pallet jack sales event is just another win-win solution for maximizing your productivity and efficiency.
​
Act today!
The $3,999 Toyota electric pallet jack sale good through Oct. 31, 2019.
​
Stay Informed
When you subscribe to the blog, we will send you an e-mail when there are new updates on the site so you wouldn't miss them.
Comments
No comments made yet. Be the first to submit a comment