By accepting you will be accessing a service provided by a third-party external to https://www.madlandtoyota.com/
Getting Motivated About Motive Power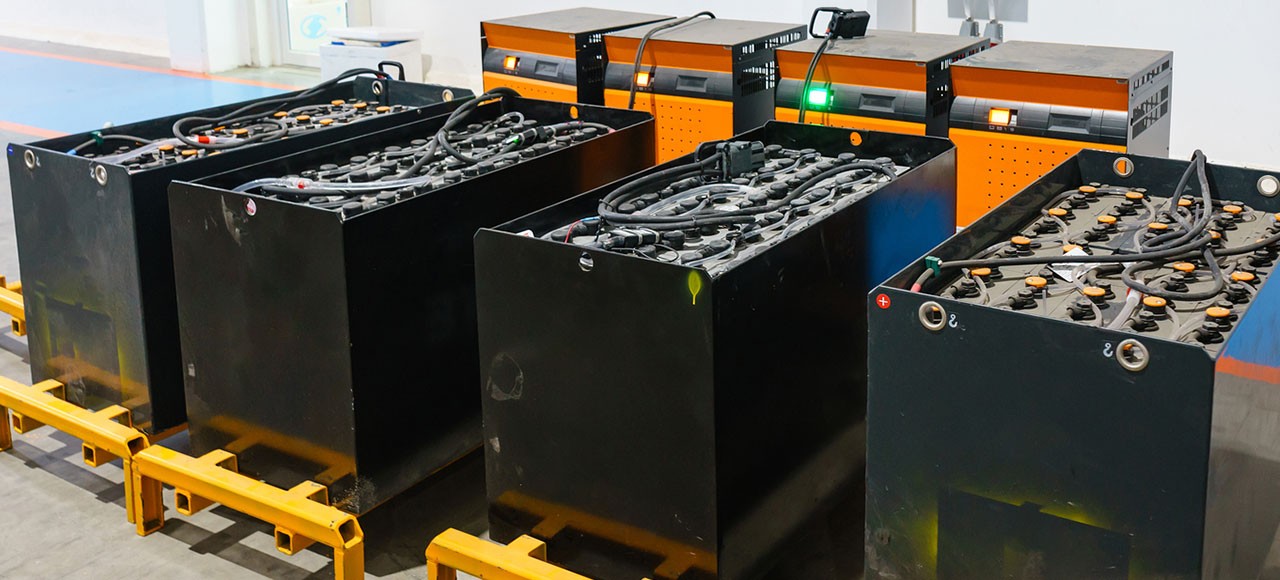 It's your job to ensure that your facility, equipment and resources are being managed at the highest level possible for maximum efficiency and productivity. As part of that role, you have to pay attention to every detail – even down to the batteries that are running the fleet and equipment.
There are many choices out there when choosing the proper batteries for the job and at Madland Toyota-Lift, we stock plenty of options and our professional staff can help you decide which battery will be your top solution. We have a wide variety of battery and charger solutions for forklifts, aerial, pallet jacks, stock pickers and more across many industries, including aviation and aerospace, construction, commercial and retail, warehousing and distribution.
We'll talk a little more later on about common types of batteries. At Madland Toyota-Lift, we stock them all – and provide battery services for all makes. One brand we stock is the innovative EnerSys NexSys battery and charger system.What makes these batteries stand out? For one thing, NexSys batteries are rugged and durable and are designed to power everything from small traction applications, including floor care machines, pallet trucks, personnel carriers and more, to large equipment, such as forklifts.
NexSys batteries are designed to keep maintenance at a minimum. The batteries are designed with a larger number of plates than many on the market, providing you with more power. Another thing about NexSys that we particularly like is they take up as much as 30 percent less space than competing lead calcium batteries – making them more convenient.
NexSys batteries charge exceptionally quickly, going from 40 percent to 80 percent in less than an hour. NexSys batteries may be charged at any time, allowing you to be in charge of taking advantage of maximum opportunities.
Madland Toyota-Lift also carries GNB batteries and chargers, another great option for motive power in your electrical equipment, material handling, cleaning equipment and more. From working in extremely cold environments to classic warehouse and facility material handling, GNB has a wide array of battery solutions to answer your unique challenges. From classic flooded batteries to VRLA to lead acid batteries, GNB products are innovative and designed to boost your productivity and efficiency.

There are a variety of batteries on the market for your material handling needs. At Madland Toyota-Lift, we know it can be a little confusing to understand what the best fit for your unique needs will be – while remaining budget friendly. Here are just a few descriptions of a variety of batteries:

Lead-Acid Batteries
These "old-school" batteries are still the biggest seller and the most budget friendly choice. Lead-acid batteries provide not only power, but also act as a counterweight for your
forklift
. In lead-acid batteries, you can choose solid plate or tubular batteries. Solid – or flat – plates may not be charged at will but must be charged fully without interruption. You can fast charge tubular batteries at your convenience, but they are more expensive than solid plate batteries. Lead batteries must be watered.
​
There is a lot of talk and excitement about Lithium Ion these days. Are they really what they appear to be? There is a lot to learn about this exciting new option. If you run a two or three shift operation we can improve your productivity and reduce the number of batteries you will need to do the job with our Lithium Ion solutions. Let our experts help you find your way through the fact's vs fiction discussion. Let us provide you with a no-cost plant survey designed to determine if Lithium Ion is the right choice for you
​.
Of course, you can always
contact us
and one of our professionals will be happy to talk to you about your specific battery and charger needs.
​
Battery Maintenance & Service
At all three of our conveniently situated Madland Toyota-Lift locations, we offer battery and charger service and maintenance, plus battery rental just in case your battery needs repair so you don't lose any uptime. Our service technicians are trained in battery power service and repair, and we offer preventative maintenance programs to keep you on track. Our battery and charger services include adjusting acid levels, cleaning, resealing and painting batteries, repairing cables and connectors, replacing cells and testing.
If you can't get to us, we'll come to you! Contact us today to find out more about how Madland Toyota-Lift can help you with your battery and charger needs.
Comments
No comments made yet. Be the first to submit a comment